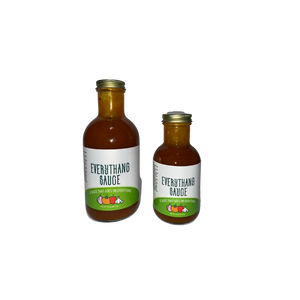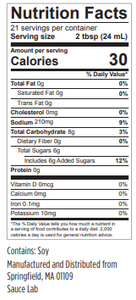 This flavor enhancing agave based sauce converts everyday meals and snacks into a Gourmet Experience.
Its versatility allows you to use it for cooking, takeout, grilling, baking, sauteing and more!
Uniquely made to produce a subtle sweet sauce with a bit of a warm finish.
Can be used as or in replace of
Hot sauce
Ketchup
Barbecue Sauce
Marinades
Salsa
Dip
Salad dressing
Taste great on burgers, fries, chicken, steaks, veggies and more.
Buy this sauce for a sweet, spicy party in your mouth.
NUTRITION FACTS
INGREDIENTS: AGAVE SYRUP, FLAVOR, SPICE, KETCHUP (TOMATO CONCENTRATE FROM RED RIPE TOMATOES, DISTILLED VINEGAR, HIGH FRUCTOSE CORN SYRUP, SALT, SPICE, ONION POWDER), CAYENNE SAUCE (AGED CAYENNE RED PEPPERS, DISTILLED VINEGAR, WATER, SALT AND GARLIC POWDER), LESS THAN 2% OF: GARLIC POWDER, GROUND GINGER, TURMERIC, RED PEPPER FLAKES.
Soy & Gluten FREE